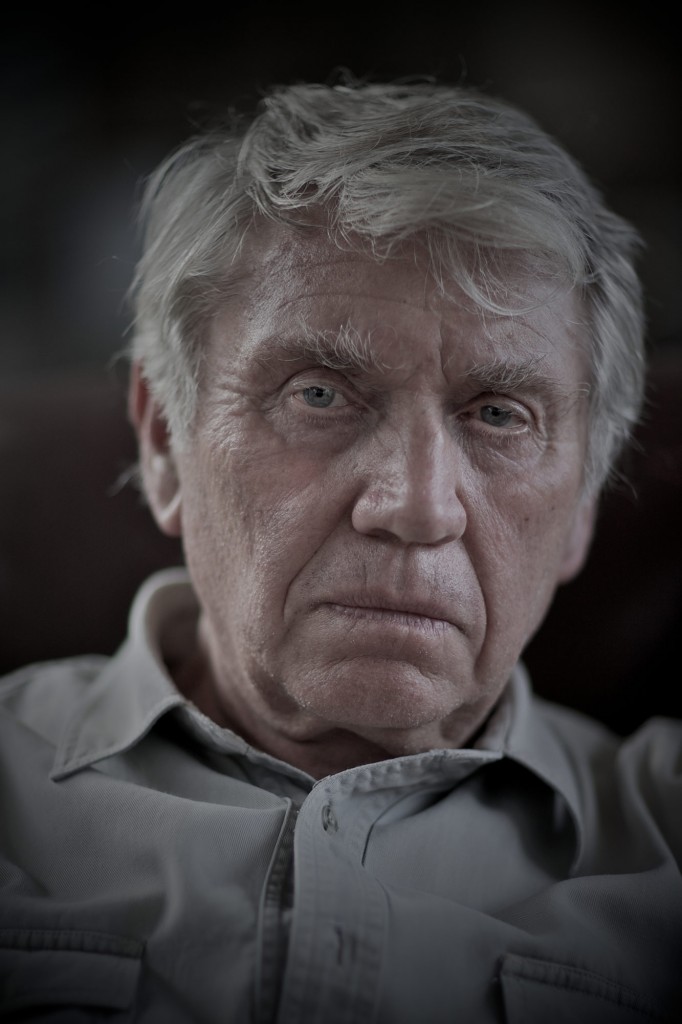 Having learned how to use a camera in the Royal Air Force, McCullin's photographic break came early in his career, when his pictures of a street gang, later linked with the murder of a policeman, were published in the Observer newspaper.
This led quickly to assignments and his imagery projecting the realities of war, the lives of the dispossessed, the poor and the victims of corrupt politics found their way into the homes of those who were safe, reading their Sunday papers.
He is recognised for these images, taken most notably, in Cyprus, The Congo, Vietnam, Cambodia, Beirut, Northern Ireland, El Salvador, Afghanistan, Biafra, Bangladesh and Uganda, and for his work at home, on the underclass of British society, his haunting landscapes and darkly luminous still-lifes.
He has experienced, injury, imprisonment and real danger.
He has spent a lifetime using his wits to survive and his instinct for being in the right place at the right time in order to document a story.
He is extremely charismatic and speaks with an honesty and eloquence about his life and the conflict he has seen, that is both educational as well as entertaining.
There is a fascination about his life, and at 85 years of age he is not only still involved with areas of conflict but also with his haunting studies of the Somerset landscape, where he lives and other projects, such as his published work on the architecture of the fringes of the Roman Empire.
His has been a life full of danger, action and survival, at the same time creating the greatest of visual images, recording events from the middle of the 20th century right up to today.
He was Knighted in 2017 for his services to photography but could just as well have received the honour for his service of constantly telling the truth.
He once said that, "when human beings are suffering, they tend to look up, as if hoping for salvation. And that's when I press the button."
1954
Don Mccullin reports to RAF Cardington at the start of national service. After completing basic training at Wilmslow, he is deployed as a photographic assistant to RAF Benson, Oxfordshire, sorting Second World War aerial reconnaissance films. Volunteers for oversea service.
1955
Don McCullin is deployed to RAF photographic sections at Suez (12 months), Kenya (RAF Eastleigh, Nairobi, during Mau Mau Rebellion for 6 months), Aden and Cyprus ( RAF Episkopi). Fials written RAF photography trade test but purchases first camera Rolleicord 4, while in Kenya.
1956
Don McCullin is demobilised and returns to work at W.M. Larkin Cartoon Studios as a darkroom assistant.
1957
Don McCullin pawns his Rolleicord camera which is subsequently redeemed by his mother.
1958
Following the murder of a policeman by a London gang member, Don McCullin offers his photograph of The Guv'nors to the Observer picture editor, Cliff Hopkinson, who commissions further photographs.
1959
Don McCullin's first photographic feature published in the Observer.
1960
Don McCullin starts work as a freelance photojournalist, supplying material to News Chronicle, Town and the Observer.
1961
Don McCullin travels to Berlin (without assignment) to cover construction of Berlin wall. Photographs published by the Observer.
Wins British Press Photography Award for Berlin work. Placed under contract as part-time freelance photojournalist for the Observer.
1962
Don McCullin covers protests against Cuban Missile Crisis and other protests by anti-war campaigners.
1963
Don McCullin travels to north of England during the harsh winter where he completes his first major photographic essay on the steelworkers of West Hartlepool.
1964
Don McCullin covers Congo disguised as mercenary, including the Stanleyville massacre.
1965
Don McCullin leaves the Observer to become freelance photojournalist for the Sunday Times.
Covers the Vietnam war (the first of 15 trips to Vietnam) for the Illustrated London.
1966 – 1973
Assignments include Vietnam, Battle for Hue, Tet Offensive, Czechoslvakia, Biafra, The London homeless, New Guinea, Chad, Jordan, Cambodia, Northern Ireland, Guatemala, Bangladesh cholera epidemic, Nothern Ireland Londonderry riots, Uganda, Tuaregs famine, Niger, Isreal (Yom Kippur war)
1970
Badly injured in Cambodia
1971
First book published
1976
Assignments include Beirut and Berlin
1979
Second book published
Third book published
1980
Assignments include Mujaheddin in Afghanistan
First major exhibition at Victoria and Albert Museum
Fourth book published
1981 – 1982
Assignments include El Salvador – badly injured
1982
Assignments include Siege of Beirut and Christian Phalange massacre of Palestinians
1983
Fifth book published
1987
Sixth book published
Seventh book published
1989
Eighth book published
1990
Ninth book published : his autobiography
1991
Assignments include Kurdish Rebellion in Iraq
1992
Awarded Erich Salomon Prize
1993
Awarded the CBE
Tenth book published
Awarded Honory Doctorate by University of Bradford
1994
Eleventh book published
1998
Retrospective exhibition at The Barbican, London
1999
Assignments include covering the HIV/Aids epidemic in Sub-Saharan Africa
2001
Twelvth book published
Thirteenth book published
2002
Assignments include Omo Valley, Ethiopia
2003
Assignments include invasion of Iraq
2005
Fourteenth book published
2007
Assignments include Darfur refugees from Sudan
Fifteenth book published
Awarded Centenary Medal by Royal Photographic Society
2008
Sixteenth book published
2010
Major exhibition and publication with Imperial War Museum
Seventeenth book published
2011
Awarded Honory Doctorate by University of Bath
Eighteenth book published
2012
A two hour documentary about his life and work premiered
2013
The documentary about his life and work receives two BAFTA nominations
Major retrospective at the National Gallery Of Canada in Ontario
Guest of honour and major retrospective exhibition at 25th Visa Pour L'Image, Perpignan, France
2014
Begins his landmark publishing project entitled "Irreconcilable Truths". A three volume, 1,300 page retrospective featuring over 700 photographs, many of which have never been published before. Limited to 1000 copies
2016
Major solo exhibition at Les Rencontres De La Photographie in Arles. To be held at Église Sainte-Anne
2017
Knighted for services to photography